It appears that a lot of people still remain unfamiliar with Angie's List in spite of the presence of ads on various television and cable channels.
In fact, a neighbor of mine was curious about this online resource but was only knowledgeable about the fact that Angie's List is just a site where they can simply find a list of contractors and service providers just like the plain old yellow pages. Hence, I would like to provide a more detailed picture of what Angie's List is really all about.
Angie's List is not like your tired and boring yellow pages. Angie's List is an online resource of user-generated feedback on contractors and services provided by a lively community of 2.0 million paying subscribers all over the US.
So what exactly is Angie's List? Angie's List is not like your tired and boring yellow pages. Angie's List is an online resource of user-generated feedback on contractors and services provided by a lively community of 2.0 million paying subscribers all over the US. The site provides user-driven report cards on neighborhood contractors and service providers in large and small cities across the US.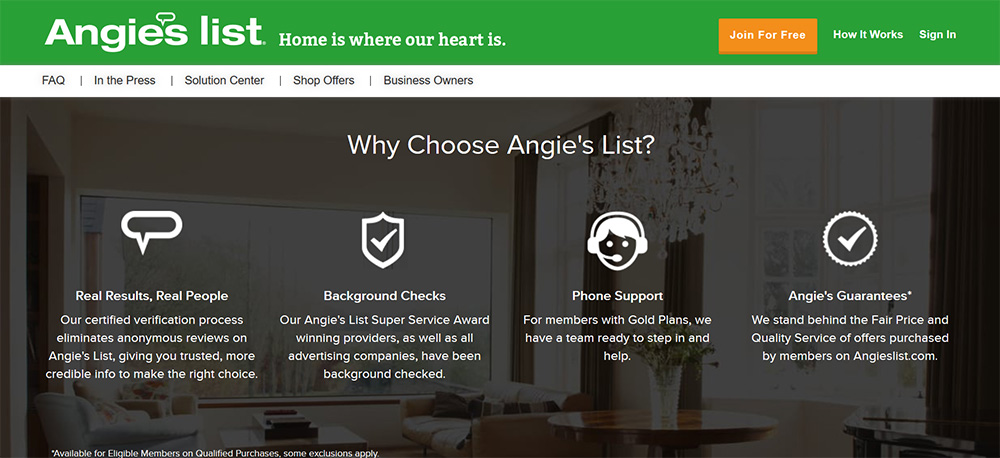 The company was started by Angie Hicks (hence, Angie's List) back in 1995 in Columbus, Ohio. Frustrated with the difficulty of finding local contractors for some home repair projects she had, she embarked on collecting consumer reviews by going door-to-door within her neighborhood and friends. Her list grew and became very popular such that within a year, Angie had a list of 1,000 members within Columbus.
Eventually, Angie's List became one of the fastest growing companies in the US and by November 2011, the company became public and began trading on NASDAQ (ticker symbol: ANGI). These days, Angie's List is available across the US covering large and small cities alike. The company's list of service categories covered continues to grow as its membership also continues to expand.
For an affordable membership fee (you can read more details on pricing in this article: "Angie's List Review: Is A Membership Worth It?"), these are the benefits you stand to gain as a member of this site:
1. You get access to thousands of unbiased ratings of contractors, service providers, and health professionals in 450 service categories. These are actual user reviews provided by other members living within your city or area.
2. You get 24 hr./7 days a week access to all reviews and ratings from members in your area about local service providers, ranging from home improvement contractors and electricians to physicians and dentists.
3. You benefit from easy to understand ratings of service providers to help you with your decision-making. Service providers are rated with an overall grade from A to F, just like a school report card.
4. Service providers are rated based on the following criteria: price, quality, responsiveness, punctuality, and professionalism. These are explained and defined on the site to help your decision-making.
5. Prior to reviews being posted on the site, these are all checked and verified by an independent auditing firm, BPA Wordwide, to guard against service providers or companies that are trying to game the system by reporting on themselves or their competitors.
6. You can call and get live support through the company's call center if you want to talk to someone regarding any questions you might have on service providers you are interested in hiring or any issues that you might have.
7. You have direct access to the complaint resolution team who will help you resolve issues that you are experiencing with a company or service provider.
8. You get the award-winning Angie's List magazine, which is sent to you every month.
9. You get discounts from highly rated contractors and service providers within your area.
10. You have access to the latest online articles and tips that range from home improvement projects to health care-related matters.
Related read: Does Angie's List Charge A Membership Fee?
In a nutshell, Angie's List is a great place to start your search for the right contractor or service provider. The site makes such an endeavor convenient and more efficient as you can do this right in the comfort of your home. Furthermore, Angie's List provides tremendous value at a very affordable price. If you are interested in checking out the price of a membership within your city, just click on the link below:
Want to Know the Price of an Angie's List Membership in Your Area? CLICK HERE.
If you decide to become a member of Angie's List, make sure to apply the Angie's List promo code below to get significant savings on your Angie's List membership.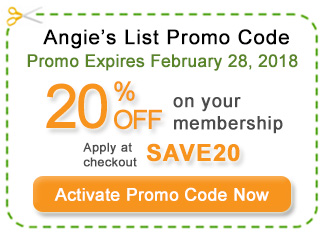 Did you find this article helpful? Do you think Angie's List provides a lot of value or not? If you are already a member, please share your thoughts and experience with Angie's List?
Save
Save
Save
Save
Save
Save
Save
Save
Save
Save
Save
Save